News
published 1/25/2012
(Amelia Fletcher, AWF Disaster Response Coordinator) - A mantra of disaster work is that " All disasters are LOCAL." In that vein, UMCOR's funding is unique to each disaster and it depends on the assessment and willingness of the grassroots communities to manage their own disaster. The contributions sent to UMCOR advances are dedicated 100% to the cause of that advance. No overhead is ever taken out of those funds.
Once a year the church is asked to support the office staff and physical operations of UMCOR. One Great Hour of Sharing is the only request that asks for congregations to dedicate their funding to "keeping the lights on" in the UMCOR office. Without that office and the continuity of operations, the response arm of the church would wither and die. As United Methodists responders, we certainly have carved our presence worldwide and our caring for humanity on our behalf should not be hindered by lack of funding for operations.
In just the past decade, the Alabama-West Florida Conference has been the beneficiary of the strong support of UMCOR and their disaster relief staff and funds. From the Ivan and Katrina hurricanes to the current Gulf Oil Spill and Super Outbreak Tornadoes of April 2011, the aid from UMCOR has been offered in an immediate and reliable way, and with expertise.
In 2010-11, UMCOR funding supported the recovery of the Gulf Oil Spill. In disaster world terms, this was not a Katrina. However, the economic and emotional impact on the communities was perhaps just as deep. As volunteers, it gives us a sense of satisfaction to be able to tarp a roof or rebuild a house, but the intangible damage from a man-made catastrophe put responders at a loss for knowing how to help. UMCOR provided the guidance and insight for initiating the Alabama-West Florida response. The conference grant helped to supply resources for a variety of recovery projects: a food panty, two children's recovery camps, family support programs, workshops for community staffs to work within the economically and emotionally depressed area and resources for people with a sudden loss of income to meet the individual needs of their family. Thousands of individuals along the Gulf Coast have been helped thanks to the UMCOR grant.
Charles Walters, Disaster Coordinator for Tornado Recovery in the AWF Conference, has been on the front lines of recovery in an area hit hard from the Spring 2011 storms. "UMCOR has been instrumental in the AWF UMC Conference in both disaster preparedness and disaster recovery. UMCOR has supplied our current disaster team in Livingston through training and support, bringing to our office both organization and professionalism. They have led training programs on spiritual care, case management and emergency response and also developed a program called connecting neighbors, which is a class that will help a church body be more informed of the sequence of events following a disaster and the steps that they can take as a community to prepare for it," he said.
One Great Hour of Sharing is a vital offering that allows UMCOR to be at our front door when we need them most. Prayerfully consider giving to this worthy offering on March 18. To order your free One Great Hour of Sharing resources, click here.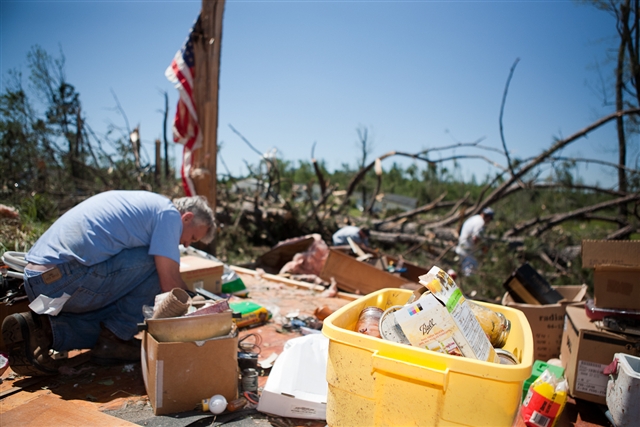 ---
published 1/25/2012
Seminar To Help Develop Policies And Procedures For Reducing Risk Of Abuse In Churches And Organizations

On February 21, 2012, First United Methodist Church of Pensacola will host Rev. Joy Melton, author of the United Methodist Church's Safe Sanctuary Policy on protection of children, youth and vulnerable adults. Rev. Melton has worked with hundreds of congregations and organizations to help develop comprehensive abuse prevention policies and procedures for implementation in ministries involving children, youth, and adults. Two training opportunities, lasting two hours each, will take place on February 21st at 1:00 PM and again at 6:00 PM. Childcare is available during the evening session only. The seminars will take place in Wesley Abbey on the campus of First United Methodist Church of Pensacola. First United Methodist Church of Pensacola is located at 6 East Wright Street on the corner of Wright and Palafox Street in beautiful downtown Pensacola. The seminars are free of charge and open to the public. All staff and volunteers of organizations, churches and non-profits that deal with children, youth or vulnerable adults are encouraged to attend. Rev. Melton is a United Methodist clergyperson and an attorney. She holds a Bachelor's Degree in Christian Education from Pfeiffer College in North Carolina; a Master of Arts degree from Scarritt College in Nashville, Tennessee; and a Law Degree from Emory University in Atlanta, Georgia. She is a partner in the Atlanta law firm of Hinds & Melton, LLC. She is also the author of Safe Sanctuaries: Reducing the Risk of Child Abuse in the Church and Safe Sanctuaries for Youth: Reducing the Risk of Abuse in Youth Ministries. In her books and training seminars she defines abuse and its many types, common indicators, legal requirements for reporting abuse, and also provides guidelines for screening and hiring workers and volunteers. In addition she outlines basic procedures of safe ministry with children and youth and outlines a congregational plan for responding to allegations of abuse. You will not want to miss this important training event for your church or organization.

If you would like more information about this topic, or to schedule an interview, please call Jeb Hunt at 850-748-1257 or email Jeb at jebhunt@pensacolafirstchurch.com.
---
published 1/17/2012
(Dr. Jeremy Pridgeon) - The Cabinet of the Alabama-West Florida Annual Conference met last week in a regularly scheduled session in Montgomery. We continue to celebrate the work of local congregations in "Living the Mission" of the church as we seek to make disciples of Jesus Christ for the transformation of the world.

A significant part of our time together was spent in conversation about the state of the church. We shared stories of where God is at work in our districts, evidenced by the fruit we are seeing borne in communities across Alabama and West Florida. We discussed the effects of the on-going shift in churches from being attractional to missional, realizing that in the past in many congregations, the focus had been primarily on worship in order to draw persons to our congregations, at the expense of calling persons to a life of discipleship. In addition, with insights provided by Dr. Jeff Spiller, senior pastor of Christ UMC, Mobile, we explored the dynamics of "evangelism" and "discipleship", with evangelism being understood as "an invitation to live into the message of the gospel and the Kingdom of God", and discipleship meaning "to break with the past to live into the unfolding revelation of the Kingdom." We are of the belief that where discipleship exists, an evangelical and missional impulse will follow.

We participated in our Incubator process, reviewing the book Deep Change. We discussed "life-giving" choices that can be part of our conversations and behaviors that will model hope and expectancy in our work across the conference. We also reflected on what we felt was going right in the conference, pointing to a celebration of mission, a permission-giving climate, a greater sense of connectedness with one another and a continued focus on fruitfulness over faithfulness in the life of the church. It was noted that across the denomination, Christ, the Caretaker of the Vineyard, is breaking the branches of the vine not producing fruit.

Continuing to reflect on the creation of new faith communities, the Cabinet affirmed its belief that this will be best done through existing local congregations rather than coming exclusively from the Conference Office. This embodies a more organic sense of connectionalism.

Additional items discussed included: the clergy health initiative of Duke Divinity School, identifying ways to reengage the "ministry zones" around our churches, entering data for Vital Congregations and Year-End Reports, a review of connectional giving and direct billing receipts, and conducting consultations with clergy and congregations ahead of the appointment making session.

We are grateful for the clergy and laity of the Alabama-West Florida Conference and the leadership you are providing to all of God's children across our area. We are encouraged by the creative ways the people called Methodists are living the mission in our communities. We are excited at the possibilities for ministry in the coming year and eagerly anticipate what God will do in us, through us, and even in spite of us in 2012!
---
published 1/13/2012
(Lisa Pierce) - 1) Bring a mission team 2) Help us recruit summer staff 3) Come ride or support the Cycle of Service Bike Ride Across Alabama in May
The New Year has come and once again, Alabama Rural Ministry (ARM) is off to the races! We are rapidly setting up spring and summer work teams, planning for the Cycle of Service bike ride across Alabama, and praying for our summer staff to run our mission camps. Next month we will be setting up our day camps and getting our sponsorships ready. We remind ourselves daily; the mission is to extend the love of Christ to families through home repair and children's ministry. Our call to disciple wherever we are stands as a bold and humbling, challenge and motivation.
Here is a humbling and sobering fact in Tuskegee. Whereas church attendance in the United States has dropped to 40%, in Tuskegee it is at 20%. This means that only one in five persons in the community (out of a population of approximately 9,500) are in worship on Sunday. Although poverty is a preventable social ill, spiritual poverty has much greater impacts and eternal implications. For those of us living in Alabama, we do not have to look far for places to teach and share God's love. So, if you have not yet planned or considered challenging your youth, college students, or adults, through missional opportunities, we hope you will consider one of our mission camps with ARM.
We have teams currently signing up so the weeks are going fast at both our Livingston and Tuskegee sites. Mission teams are able to minister with families through home repair and day camp ministry. Sonshine Kids Day camps are modeled after vacation Bible schools and volunteer groups plan most of the daily activities, Bible lessons, and more. For information on bringing a team, see our web site. Plus, we can take groups for Spring Breaks, intentional mission weekends, and more. Also, we are recruiting college students to run our camps. Please help us pass the word to mature Christians with outstanding leadership qualities that can effectively lead our summer teams!
Come be a part of the Cycle of Service! If you are a cyclist or know someone who is, we will be biking across Alabama from May 3-6. Be challenged physically as we ride, share with families through an afternoon of home repair, and help us raise needed finances to serve more families. For information, see our web site www.cycleofservice.arm-al.org.
Thank you to all who gave towards the Frazer matching grant of $4,000! We achieved our goal and are extremely grateful for your help and participation! We are also excited about our newest staff member, Kimberly Miller Dixon, who will be taking the position of Assistant Director and will oversee our summer mission camps. We'll be sending more information about Kimberly later.
Finally, and one last little story: In November, we were able to re-roof a home for Ms. Betty Dozier. Ms. Dozier runs a small outreach ministry in her community and is a great encourager and prayer warrior! As with many elderly limited with disabilities, she paid a roofer to work on her home. He laid a few rows of shingles and then left her house, pocketing $2,500 of her hard-saved money. The stormy winds ripped off the remaining felt and soon water was pouring into her home. She did not want to ask for help but someone called on her behalf. The "WORD" motorcycle group from Woodbine UMC, Pensacola, not only re-roofed her home but built a wheelchair ramp for another family. They prayed together, shared stories, and offered hope through Christ. Living out the Great Commission is not easy going into all the world to make disciples is a great challenge, a challenge we are called to every waking moment. God bless you as you serve! "Peace be with you! As the Father has sent me, I am sending you." Jesus (John 20:21)
---
published 1/12/2012
Below is a letter from a clergy spouse, Carmen McCullough, to Rev. Brian Miller in response to a Catapult missional grant written December 30, 2011. The Church at 301 Dexter received this grant to implement a brown bag ministry to inner city children.
Brian,

Thank you so much for the generous missional grant through Catapult that we received last week. I wanted to let you know the funds have already been put to work to reach the underpriveldged children in our community and to help fight child poverty.
The "trial run" of our Brown Bag ministry went over great yesterday at Smiley Court Community Center. The kids were very sweet and they all ate their lunches on the bleachers in the gym. We served about 65-70 kids a sack lunch with a whole wheat turkey sandwich, goldfish crackers, unsweetened applesauce, and bottled water. One of the boys I talked with, who asked for another sandwich, told me he had not had anything to eat since the night before, and some of the kids told us they rarely eat lunch when not in school. The percentage of Montgomery County children living in poverty is 29%, and 62% are eligible to receive the free school lunch program. The reality is that the school lunch is their main source for nutritious, satisfying meals during the week. If there's not enough food in the house, these children can go hungry on extended school holidays when the school lunch isn't available.

I hope that we can provide this outreach every day during spring break 2012 (last week in March) at Smiley Court as well as at other community centers (there are 25 community centers in Montgomery that serve our children). This ministry has a goal to reach the children as well in future school years, to incude fall break, Christmas break and other school holidays when they do not have access to consistent nutrition. We were able to utilize the grant money provided by the Alabama-West Flordia UMC conference through the Catapult Conference missional funds to help support this and future projects within this ministry.

One thing we noticed was that the younger girls and boys were sitting on the bleachers without anything to do while the older boys were in basketball practice. Maybe our church could provide some coloring books/crayons for them during the extended school holidays, or maybe even provide a Vacation Bible School during spring break so the younger children would have an activity/craft. Just brainstorming...I would need to ask Curtis, the director, what he thought.

Let me know if you have any more input or if you or someone you know would like to get involved in this ministry to fight child poverty in our community. Look at the attached pictures of the amazing children who were reached though the love of Christ yesterday.

Thanks,
Carmen McCullough

---